Often kids miss all the riding and cycling fun, if they have to travel away from home for some time! But not anymore! Now you can allow your kids to have all the fun while they are out with you on tours, camping or anywhere.  The 4 in 1 folding tricycle is highly appealing in looks and very productive at the same time. It has a safety design along with additional guardrail and harness for the security of the child. The awning protective secures the child from direct sunlight and rain.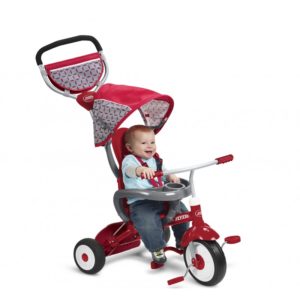 It has an excellent feature of folding pedal where the feet can be kept on pedals in case the baby is too small to push it. The inflated wheels render better shock support and greater traction. It has a large storage basket in case you or the child wishes to carry anything. The most remarkable feature of the tricycle is that it can be folded and carried to any location without much trouble. It hardly takes any space in the car.
So, if you're thinking that your kid will miss his riding while you're out with him to granny's place, then it is no longer a trouble for you. Carry it along with your child anywhere. It is non-toxic and designed with safe material. The tricycle has been designed for kids from 3 months to 6 years. It can manage highest load of 50kgs.
The 4 in 1 folding tricycle supports 4 different stages of your child-
6 to 12 months for full protection to your child while you take them for a walk
12 to 24 months when you go on outings, shopping with your baby
24 to 26 months is the age of growth and exploration of your kid
36 to 72 months add to their sports fitness riding skills.
So, if you're looking for an all-rounder development of your kid, then get this.