Hardwood floor installation is one of the greatest ways for anyone to add charm and beauty to their home. Homeowners can choose anything beginning from the traditional to the eclectic when it comes to matters of design. However, there are a few important things you need to consider before you start your home remodeling project with hardwood floor installation.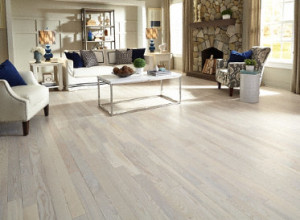 The existing floor: The very first thing that you are going to consider is the state of the existing floor; the hardwood floor needs to rest on something which could be a wooden subfloor or a concrete slab. Whatever the case, the existing structure should be made smooth, level and capable of supporting the new hardwood floor. If the subfloor is going to perform optimally, the area should be cleaned thoroughly; this makes it easier for any protruding nails and tacks to be identified and removed before hardwood floor installation takes place. You and the contractor will also be able to physically walk on all areas of the subfloor so you can make sure that the floor joists don't give in to weight at any particular spot. Any weak spots that appear to sink under your weight must be replaced before the installation is done.
Padding: Once you have made sure that the subfloor is alright, the attention now turns to the installation of the padding that becomes the base for the hardwood floor itself. Padding is essential even though it may not be required for all floors; you want to make sure that you use it especially if you are using tongue and groove flooring sections that snap into place during hardwood floor installation. Always follow the manufacturers instructions when purchasing the padding so that the installation process becomes easier.
Acclimatization: In most cases, hardwood floor installation contractors and homeowners forget this important process before the installation process begins; it is important to allow the hardwood floor boards some little time to acclimatize to the humidity and temperature levels of your home. This is because wood automatically expands or contracts as a result of these two factors. Before the hardwood floor installation process begins proper, the wood should be placed in your home or next to the room where it is going to be installed for just a few days; doing hardwood floor installation after doing this reduces chances that there will be buckling or gaping as the years roll by.
Apart from enhancing the physical appearance and general feel of your rooms, hardwood floor installation adds an enormous amount of value; this is why it has enjoyed a general resurgence. Just like all other home remodeling projects, hardwood floor installation increases the chances that you will make a bigger profit if you ever decide to sell your house anytime in the future.