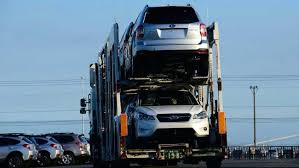 Since the start of the COVID-19 pandemic, the demand for delivery services have increased exponentially. This is partly due to the lockdown imposed on a large number of locations, social distancing requirements, and the public's fear of going out to public locations. Thus, the delivery services sector is a great business opportunity in the current climate for anyone who is looking for a career change, a greater degree of flexibility in working hours, have recently lost their job, or all the above. If you are looking to dive into this business opportunity, there are a few routes you can take which depends on if you have a vehicle available for delivery.
Delivery company contractor
If you do not have a vehicle available for delivery, the only way to enter the delivery services sector is to look for work at a shipping company that has a fleet of vehicles available. Some delivery companies also contract out their delivery jobs to individuals with their own vehicles. Income may vary depending on the payment and contract options that the company offer. A shipping company may offer one of their vehicles for hire at a daily or monthly rate while you compete for delivery jobs among their group of contractors. Another payment model may be a fixed commission from jobs assigned to you. Attaching yourself to a shipping company may result in more rigid working hours and fewer delivery job options but it may be beneficial to you if this matches your needs at this moment in time.
Classifieds
If you have a vehicle available for delivery, this is a good option not only to advertise the delivery service you offer, but you can also search for delivery jobs that other people advertise. You must keep in mind though that advertising your service in the classifieds section may not provide the greatest reach for your services, and it has a small but significant upfront cost. However, you are able to pick and choose jobs that suit your needs and current abilities. Thus, this also allow you to have working hours which are much more flexible.
Online load board
An online load board caters to individuals with their own vehicles who are looking for delivery jobs. A large variety of jobs are posted on load boards which can be serviced by different categories of vehicles. Quotations from other delivery providers are usually displayed which enables you to compete better for jobs. Thus, you are able to choose and provide an optimal delivery service based on your capabilities and at the right prices. A load board such as Shiply also has a robust notification and messaging system which allow you to keep track of your quotes and outbid other competitors for jobs. Quotes and messages are free which means there is zero upfront cost. A fee is only charged on top of your quoted price if there is a successful bid.
Choose the right path that meets your current needs and capabilities at this moment. There is great opportunity in this sector during the current situation as demand for this service has grown.