The garage door system is not too complex to handle. Especially if there are only some minor issues, you can handle it personally without the assistance of any expert. While getting it serviced manually you would need a manual that would be a part of the garage door system.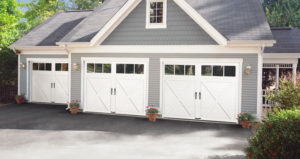 The little maintenance will help your Garage doors to stay away from any kind of issue for a longer period of time. All you would need to do is to spare a little time for its management at least 2 -3 times in a month. That is all and your garage door will work perfectly for a long period of time!
There are so many things that you can do for maintenance and care of your Garage doors but all that you do should be done carefully. This is a machine and if you will do any kind of cleaning without being alert then it could be harmful for the machinery or sometimes it could be harmful for you as well.
Here are few tips that will help you to do better garage door service, maintenance and cleaning so that your garage door can stay working perfectly without any trouble for a long period of time.
First of all, no matter if you are just checking or cleaning your garage door don't forget to turn the switch off. Make sure that there is no connection to electricity when you are cleaning or checking the garage door.
Every time you open or close the garage door, you should check its motion and balance. This is the most common thing that can cause bigger trouble after a certain period of time.
Lubricate all the moving parts of the machine every month or whenever required because it will help the machine to work well and it does not require any kind of professional expertise. All you would have to do is to stay gentle and take care. If you have the door opener then lubricate the rail traveler too.
Care that although above steps seems to be easy, you should always take the professional help if you need to get your garage door serviced completely. This will help in avoiding your door getting damaged.