Balloons have been traditionally connected with celebration and gifts. Party decoration without balloons is just incomplete. You know it very well. All your childhood celebration pictures will have a balloon, aren't they? The smile on the face, seeing those balloons and its visual appeal simply uplifts the day.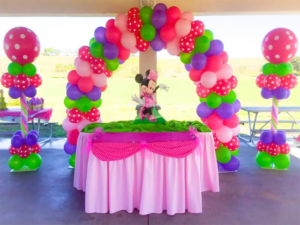 Balloons are a lovely addition to any party, and when it comes to balloons, you will find so many beautiful and creative ways to set them up. Here are a few wonderful balloon decoration ideas that you can quickly try for your next party:
Tie Colorful Balloons to Gift Bags: Don't you think this is one of the best ideas for a birthday party. It will not only add charm to the decor plus each, and every kid will take home balloons.
Balloon & Streamer backdrop: Balloon and streamers these two have always been an all-time favourite decoration for every party, right? And combining both would create a decor that you would love. It will not only decorate your dessert table but will create a great photo booth corner as well. Opt for balloon decoration for birthday party and look for some easy breezy ideas.
Balloon Arch: This tiny mini rainbow balloon arch will take your celebration over the top.
Flower Balloons: Either set them on the table or hang them on the walls. This pretty decor will surely accentuate your party.
Balloon Wreath: Who said that wreath is just meant for Christmas? You would change your mind after looking at this beautiful decor. Use them in birthday party it will look perfect for birthday party themes in Hyderabad.
Well, home birthday parties are generally more affordable, and it wouldn't be colourful until you opt for balloon decorations. You can host a fabulous kids birthday party with simple balloon decorations, little money, and still, have your kid and guests in awe.
Balloons can be the most inexpensive and simple home decoration for any birthday party. These are the tons of awesome balloon decorations, which would add more style, colour and flair to any special event from baby showers to birthday parties and more. So you might be looking for a special and unique way to set them up ideas like Giant Confetti Filled Balloon, Balloon Wands Unicorn Birthday Party Decoration, Meri Meri Glittered Balloon Party Kit, Glowing Balloons, Floral Balloon Arch, and give your favourite ones a try for your next party!
When it comes to wedding decoration balloons, moreover the brides also love Balloons with the flowers around on the wedding day! It's always the flowers around, but few people sometimes choose of having balloons included in the decoration is more beautiful than anything else in the world. Balloon decoration on the table, behind the car "Just Married Tag" is usually the biggest fall in love makeover.
These are just a few of your explorations look for party themes in Hyderabad and hire the decorators. Once you get an idea about your material like balloons, flowers and all others will make it look glamour for your set up.